Description
Our Fermented Cod Liver Oil is produced through the carefully controlled cold lacto-fermentation of cod livers, exclusively sourced from Atlantic Cod (Gadus Morhua) caught in the pristine waters of the North Atlantic. Extracting cod liver oil through fermentation avoids the need for any heat treatment or chemicals, and preserves all the naturally occurring nutrients. As a result, the oil is rich in a range of naturally occurring omega-3 fatty acids, vitamins A & D, and a wide variety of other nutrients.
Health Benefits of Fermented Cod Liver Oil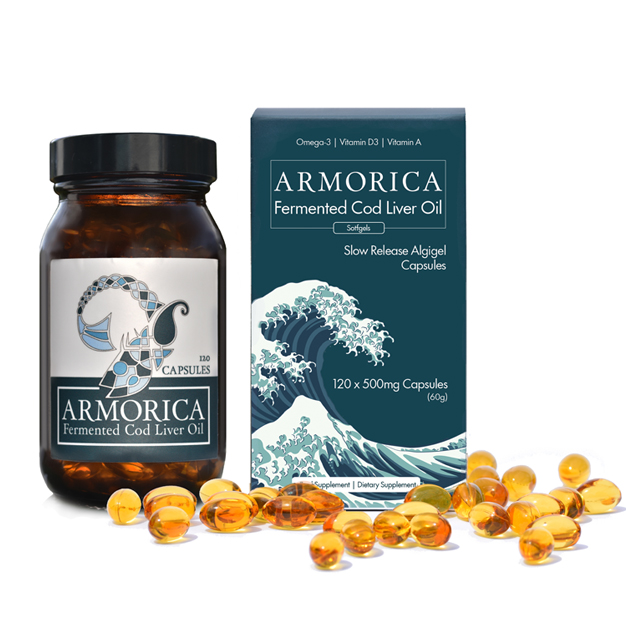 Our Fermented Cod Liver Oil is rich in a range of naturally occurring omega-3 fatty acids. These include large amounts of EPA and DHA, which are clinically important in supporting the normal function of your heart, brain, and eyes. Our oil is also rich in vitamins A and D. These vitamins are important to the normal maintenance of bones, the brain, and the immune system. By fermenting livers, the oil is naturally enriched with a variety of other nutrients, many of which are antioxidants. These further help to support the immune system and your overall health.
Due to our unique low-temperature fermentation process, all the naturally occurring nutrients in the oil remain intact. We do not heat, chemically treat, or add synthetic vitamins to fortify the oil. Everything is completely natural (and nutritious).
A Traditional & Raw Cod Liver Oil
For thousands of years, cod liver oil was produced in Northern European countries through fermentation. It was widely recognised for its exceptional health benefits. Production of cod liver oil changed dramatically in the 1900s with the introduction of mass-production machinery. There was a desire to produce a product quickly, cheaply and in great volume. This was done at the expense of the quality, and many nutrients were removed or damaged.
We have reproduced the traditional conditions for cod liver oil extraction, with only a few minor modern improvements, such as fermentation in a completely oxygen-free environment, which prevents any oxidation of omega-3 fatty acids. The resulting oil is rich in all the naturally occurring nutrients that cod liver oil is famous for, and, unlike conventional cod liver oils, doesn't have synthetic vitamins added to the oil.
Not only is the oil rich in omega-3 fatty acids, vitamin D, and vitamin A, but it contains vitamin co-factors, which support the utilisation of the vitamins in the body, and a range of other nutrients that are often removed, such as vitamin K.
Vegetarian Softgels
Our softgels capsules are made of a blend of starch, glycerol, and carrageenan (seaweed). They are soft, easy to swallow and protect the oil.
Sicilian Lemon Oil

Our liquid product is flavoured with Organic Lemon oil pressed from Sicilian lemons. This natural flavour really does taste great, helps to mask fishy flavours and also helps to combat repeating fishy flavours.
Quality & Sustainability
Producing a high-quality and sustainable product is very important to us. Our Fermented Cod Liver Oil is made in the United Kingdom, and so adheres to some of the strictest food safety standards to ensure that you get a safe product. In addition to this, we test each batch of fermented cod liver oil capsules at independent laboratories for quality and purity.
The cod are caught in line with the sustainability standards in the United Kingdom and European Union. These aim to minimise our impact on the natural world and keep our food supply sustainable. Additionally, a lot of the materials we use are recycled and/ or recyclable. For example, our products are protected with Eco-Fil packaging, which is sustainably made from corn starch.